Lake Management Plan
The Lake Management Plan was first developed in 2004 through the Central Minnesota Initiative Foundation's Healthy Lakes program in conjunction with the Lake Orono Improvement Association, the City of Elk River and the Sherburne Soil and Water Conservation District.
It was updated periodically with minor adjustments. There was a major revision in 2017, and it is a living document which will be updated approximately every 5 years. In 2019 the Orono Lake Improvement District (OLID), a new local government unit partner, was formed by the City Council at the request of the lake association. The Lake Orono Improvement Association dissolved in 2020, however lake residents continue to hold informal social events. 2021 – 2025 plan development is underway.
Five main areas of concerns listed in the Plans are:
Sedimentation management
Proliferation of curly-leaf pondweed
Prevention of additional aquatic invasive species (AIS)
Impairment of water quality
Native plant overgrowth and algae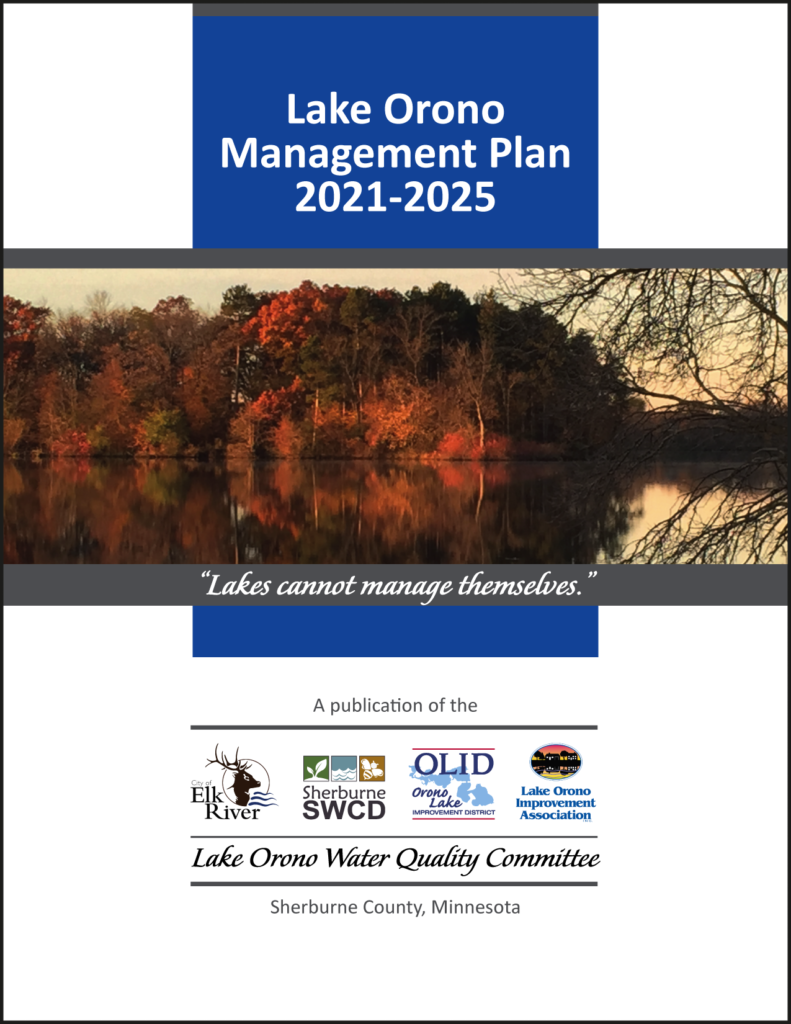 Lake vegetation management
In order to address the concerns of curly-leaf pondweed and native plant overgrowth and algae, we must first prove that a problem exists. This is done with a Point-Intercept Survey, whereby the quantity of the aquatic plants, both invasive and native, are counted in "rake fulls" at 75-meter increments across the entire lake. If needed a consultant also will do a "meander survey," which counts the plants in a designated area as the 75 meters is sometimes too far apart.
2019 – Contract with external consultant(s) expertise to assist in additional surveys, other data collections, effectively analyzing and addressing invasive plants (AIS), native plant overgrowth and algae proliferation and/or meet MN DNR requirements for an AIS permit with a variance (as needed).
2019 Budget: $4,245 – Remaining: $2,062
2020 – Initial meeting with consultant and Sherburne SWCD. Vegetation plan will be a section in the 2021-2025 Lake Management Plan and water quality, fisheries and future sedimentation control will also be addressed.
2021 – Paid for an added June point-intercept survey to document the late emergence of Curly-leaf pondweed (CLP). Remaining funds will be utilized over multiple years to support new plan development.