Aquatic Invasive Species
Aquatic invasive species are plants and animals not native to Minnesota. They may include plants such as curly-leaf pondweed and animals such as zebra mussels or spiny water flea.
Aquatic plants improve water quality and dissolved oxygen, and provide food & cover for fish and wildlife. However, when there are too many plants, they reduce the recreational suitability and navigability of the lake. The Lake Management Plan states that the proliferation of invasive curly-leaf pondweed, and overgrowth of nuisance native aquatic plants and algae are of concern.
Identification of Aquatic Plants
Inspect and Clean Equipment
To inspect and clean your dock and other water-related equipment, please see this handout:
If you find something suspicious, note the location, take a sample or photo and send an email to: oronolid@gmail.com
Clean In, Clean Out
When going to or from another lake with your boating, water sports or fishing equipment, protect our waters by following state aquatic invasive species laws:
https://www.dnr.state.mn.us/invasives/preventspread_watercraft.html

Curly-leaf pondweed
In 2020-2021 it was hoped that most of the curly-leaf outside of the river flow would freeze out. With a warmer than average winter that was not the case. A Point Intercept survey on May 15, 2021 showed little curly-leaf, but by the end of May it was identified by residents. An extra survey was completed on June 13, 2021 (below) and it was evident that there had been a delayed growth effect whereby the curly-leaf showed up too late to treat by the DNR's June 1 deadline. In 2022 OLID is proposing treatment up to the maximum DNR allowable of 42.15 acres.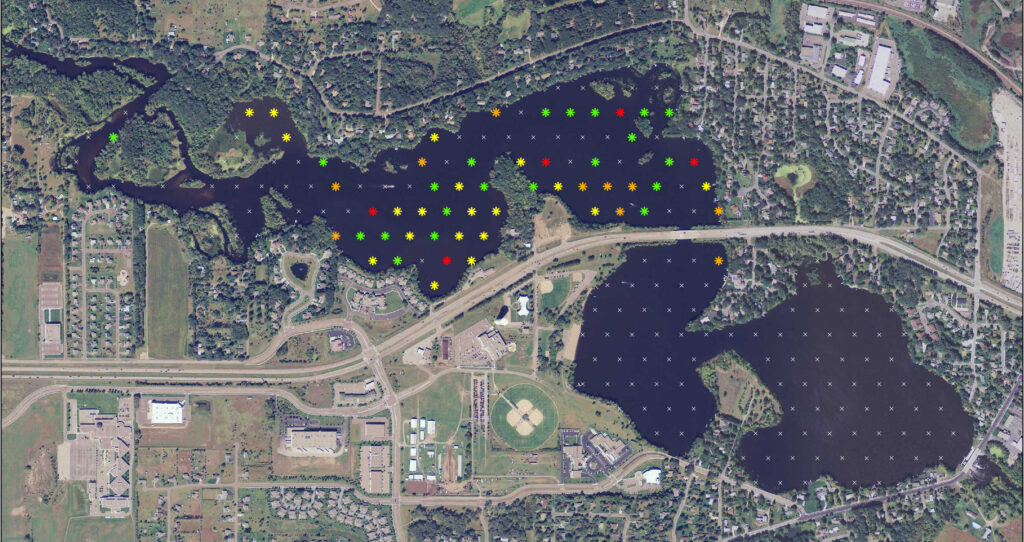 Invasive zebra mussels confirmed in Lake Orono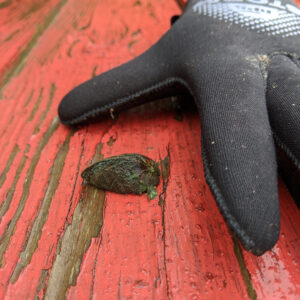 In 2020 after the drawdown for dredging, there were two separate instances of possible zebra mussels found in Lake Orono and the DNR, SWCD and City were been notified.
They range from 1/4 in. to 1-1/2 in in size; adults are usually fingernail-sized. They have a D-shaped hinged shell and usually have alternating yellow and brownish stripes, but as you can see in the pictures you may not be able to see the stripes.

Zebra mussels usually attach to hard surfaces (rocks, docks, boats, motors, etc.) below the water's surface. Be sure to inspect and clean all equipment (see handout link to left).
If you find any, DO NOT throw in the lake — leave them where they are. Please take a photo, note the location and send an email to oronolid@gmail.com with the information.
Testing and Monitoring
Lake Orono is being tested for eDNA (environmental DNA) to quantify populations, and volunteers have increased their veliger (zebra mussel larvae) testing. In addition, there are six zebra mussel collection platforms around the lake that are being monitored by volunteers.
Eurasian watermilfoil
In mid-July 2020, Eurasian watermilfoil was found in Guardian Angels bay. Using a rapid response this area was treated on Wed., Aug. 5, 2020.
According to three Point-Intercept Surveys conducted in 2021, there has been no further instance of this invasive and the treatment was highly effective. OLID has secured grants from Sherburne SWCD and set aside funds if an additional rapid response is needed.